Questions & Course Application
Welcome to the Balance Ball YOGA
We are excited to have you join our Balance Ball YOGA courses designed for posture correction. RSM International Academy is here to help everyone: from people needing special care for their dynamic postural stability(rehabilitation) to top athletes and yoga practitioners. At RSM, we aim to guide you towards postural correction. Please complete the application form below, and RSM will get in touch with you in 24 hours
Personal Information
Before contacting RSM via Line or WhatsApp, we kindly ask you to familiarize yourself with our course details, encompassing the concept, pricing, and start date. Every student's journey is unique, and whether you're a beginner or a seasoned expert, we value your story. Please provide a comprehensive background as per our guidelines. This ensures that we can serve you better and avoid any potential miscommunications. Remember, every piece of information helps us in guiding you to the right choice, so let's make our interactions count. Rest assured, your personal details will remain confidential and won't be shared with any third parties

Full Name:      
Date of Birth:     
Email Address:   
Phone Number:  
Country: 
Current Occupation: 
Years of Experience: 
Relevant Certifications (if any): 

All Practitioners start from Dynamic Postural Stability
Balance Ball Yoga is tailored to progressively enhance your posture. Even if you've delved into advanced postural exercises before, our methodology stands apart from other approaches. Each lesson is both effective and captivating, blending enjoyment with challenge. Under the expert guidance of Grand Master Hironori Ikeda, your core strength and kinetic chain are assessed from a sports medicine perspective. We offer personalized exercises to align with your posture correction journey. Moreover, once you achieve proficiency at a particular stage, you'll be awarded a certificate, allowing you to Fluid Dynamic Movements as the next level

Location & Maps
RSM International Academy is located a 15-minute drive from Chiang Mai Airport, and a 20-minute walk from downtown. 

〒30/10-11 CHARUENSUK Road, Chang Peauk, Amphoe Mueang Chiang Mai, 50300 Chiang Mai
WhatsApp: +66985175990
(You can also use SMS, but calls are not appropriate as Hiro is teaching or practising most of the day.)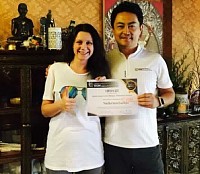 Obtain Your Authentic Balance Ball Yoga Certificate: Medically-Endorsed Techniques Crafted from a Sports Medicine Perspective by Grand Master Hironori Ikeda
Certificate and Career Opportunity
Upon completing our course, you will be well-equipped to provide exceptional care and address a broad range of client needs, ultimately improving your professional services and career prospects. Additionally, successful completion of our course results in a certificate that attests to your proficiency in the acquired techniques and knowledge. This certification bolsters your professional credibility and expands your career opportunities within the wellness industry. With this certificate, you will be better prepared to deliver outstanding care and cater to diverse client needs, setting you apart in your chosen field.