Balance Ball YOGA - An innovative posture correction exercises for yoga,rehabilitation and performance
Welcome to RSM International Academy
Welcome to the RSM (Recreation and Sports Medicine) International Academy, a professional institution focused on pain relief and posture correction through our original Balance Ball YOGA method and sports medicine based massage.
Developed by analyzing human body movement and sports medicine research for over 20 years, our comprehensive resources and expert guidance offer tailored solutions for various clients, including professional athletes, yoga enthusiasts, and those in need of rehabilitation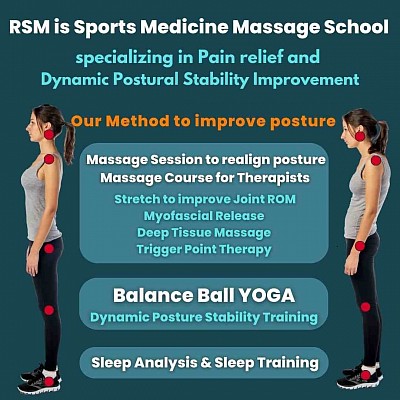 What Is Balance Ball YOGA
Balance Ball Yoga is a unique and innovative approach to posture correction that blends traditional yoga postures with modern sports medicine knowledge. By aligning your core with the centre of a balance ball, you'll engage core muscles, stabilize spinal movements, and establish a solid foundation for all movements. Utilizing a balance ball (also known as a yoga ball, stability ball, exercise ball, or Swiss ball), this method encourages harmony in physical, mental, and emotional states, while deepening the connection to universal consciousness.
Origin of the name Balance Ball Yoga
Balance Ball Yoga is a posture correction program rooted in the essence of yoga, which is derived from the Sanskrit root yuj, meaning "to yoke" or "to unite." Achieving balance is crucial in various aspects of life, including physical, emotional, and work-life balance. Balance Ball Yoga is the art of exercise to improve posture by focusing on physical and mental balance.
Medical Evidence of Balance Ball YOGA
The Balance Ball Yoga method, refined by RSM over 20 years, was the subject of a thesis at the University of Cagliari in Italy. In 2021, its medical evidence for posture correction was confirmed.

This posture improvement method is designed to be applied to a variety of fitness levels, including rehabilitation from accidents, physical disabilities from birth, further improvement as a yoga practitioner, and sports performance improvement.

Directing your passion to the future the right way
Embrace the power of Balance Ball Yoga to stabilize your dynamic posture and unleash your potential. The Inventor Hironori Ikeda and Our accredited Instructors will guide you on your journey to maximize your natural abilities. Start your Balance Ball Yoga journey today and experience a significant positive impact on your life. More than just a posture improvement program, Balance Ball Yoga unite (yuj) you with your dreams, your future, and the joy in life.

Dive in and discover the possibilities that await you!